Answers

Oct 08, 2013 - 12:08 PM
Are we talking about Subterranean termites that are infesting the shed or Drywood termites that are infesting the furniture?
Ron
---
Oct 08, 2013 - 02:05 PM
Drywood termites that are infesting the furniture.
---

Oct 08, 2013 - 04:06 PM
The only thing I can suggest that you can do yourself to treat drywood termites in furniture, is to find the kickout holes, and inject Termidor Dry into these holes. This may or may not lead to the galleries or places where the drywoods are living.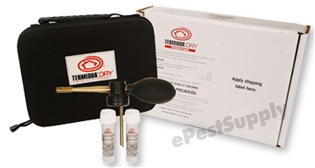 It basically is a 50/50 split on whether you will get control.
The best treatment for drywood termites in furniture is to have it fumigated by a professional fumigation or pest control company. They use a very toxic gas called VIKANE to penetrate the wood and kill the termites.
You can't buy Vikane, as it requires special licensing, handling, permits, etc. If you don't want to take a chance on on Termidor Dry, and don't want to spend $500 or so on fumigation, then I would recommend to get rid of the furniture immediately.
If the house becomes infested, or other areas of the structure, it could cost thousands to get rid of them. The furniture may be antique and an heirloom, it is not worth the hassle of getting rid of drywood termites in the house.