Answers

Nov 11, 2013 - 07:37 PM
German cockroaches are the number 1 pest in America. They travel with people, they are brought in from the grocery store and yes, the travel from apartment to apartment. Usually through the walls along electrical lines, plumbing lines, etc.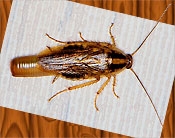 I am surprised that you haven't seen any until now, as most multi-family houses even Condos with shared walls have their share of german cockroaches.
Maxforce FC roach gel bait is the best product to use. We also sell a complete home cockroach control kit that contains everything that most pest companies would use to eradicate them.
Hope this helps.
Ron