Answers

Nov 27, 2013 - 10:19 AM
I think you are referring to "ULV" which stands for Ultra Low Volume from an aerosol generating device known as a ULV Machine. This machine blows an ultra fine mist of pesticide particles into the air to basically "fog" the air or house.
Most products labeled for indoor use in ULV Machines such as the Dyno Fog Hurricane Mister -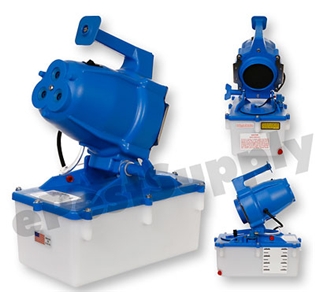 are pyrethrum based. Pyrocide 100 or 300 are examples of products labeled for indoor ULV applications.
The standard re-entry instructions are given on each pesticide label, depending on what you use. For Pyrocide 100, the directions are to fog 1/2 ounce of product for each 1000 Cubic Feet into the upper corners of rooms and then leave room closed for 1/2 hour, ventilate thoroughly before re-entering.
This would be the equivilent of switching the machine on for about 2 seconds for an average size room, and then turning it off. Just a really quick "fog" to lightly fill the air.
If done this way, the impact on humans as well as animals is almost non-existent.
The same goes whether you use a ULV Machine, a can aerosol generator such CB80, or a total release fogger. Just follow the directions, don't over apply anything, air the room or house out completely by opening doors windows, etc, before allowing anyone or pets back inside, and everyone will be OK.
Hope this helps.
Ron