Answers

Sep 18, 2013 - 09:46 AM
Award Fire Ant Bait is still available, but only in 25 lb Bags. It is no longer available in 3 lb jugs. Also it is now called Award II.
The difference is that the old Award contained a synthetic growth regulator called Fenoxycarb. Fenoxycarb does not kill fire ants, it only sterilizes them.
The Award II contains Abamectin, which is a soil derived fungus. Abamectin has a dual action. It kills fire ants and sterilizes the queens.
Award II is also not for sale in the following States - AK, CO, CT, DE, ID, IN, IA, ME, MA, MI, MN, MT, NE, NY, OH, OR, RI, UT, VT, VI, WA, WI, WY
Ascend Fire Ant Bait is exactly the same ingredient as Award II and is for sale in most States.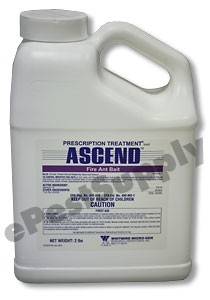 We are recommending that if you want Award Fire Ant Bait, to go with Ascend Fire Ant Bait.
The cost on a 25lb bag of Award II is $297.00. The cost on a 2 lb jug of Ascend is $39.95.
Also, Syngenta the manufacturer of Award, purchased Dupont Pest Control Products earlier this year. So now all of the Dupont Fire Ant Baits such as Advion, etc, are now owned by Syngenta. This is the reason that Syngenta has discontinued the original Award Fire Ant Bait. So that they can concentrate on selling their new Dupont products.
Hope this makes sense.
Ron