Answers

Nov 24, 2013 - 07:43 AM
The Carpenter ant control kit contains a bait that is used outdoors to control them and Timbor Dust, to treat wall voids, cracks and crevices where they may nest. Without retyping all of the instructions, I will point you to the product info sheet which explains how to use them.
Click here for Advance Carpenter Ant Bait Click here for Timbor Insecticide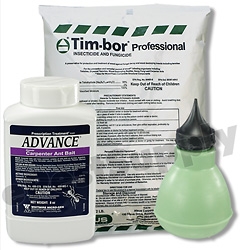 Since there are no liquid sprays with this kit, there are no odors, wet surfaces, etc. so there is no reason to leave the house.
Ron