Answers

Mar 03, 2014 - 04:48 PM
Depending on where you live, these insects are possibly swarming subterranean termites. Here is a picture.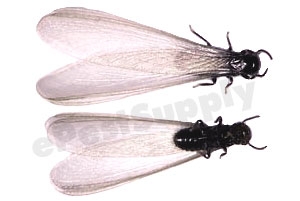 Subterranean termite swarmers also break off their wings after they swarm to make crawling easier. You may find piles of "white colored" of clearish wings. You may also find evidence of mud or dirt at the point at which they swarmed out of the floor.
If this is not what you are seeing, they could possibly be ants. I need to see either a specimen or a picture to be for sure.
Ron